Books you will find dozen of hard-headed practical ideas, techniques, and principles that will enable you to harness the tremendous power of thinking by, so as to gain for yourself the success, happiness, and satisfaction you want too much. You discover not only what to do but what is even more important, you see exactly how to apply each principles to actual situations and problem.
There are many people who consider books as a dying act form, especially as physical objects, while I accept that books will one day be nothing more than words on a screen, stories will always live on. This means choosing what to read is a big decision. Sorting the wheat from the chaff is impossible. Without some help. Which is why recommendation from other book lovers are crucial. While friend and family are the obvious choice. Have a good read.
No matter what you're going through- whether it's a break-up, confidence issues, or just a general life rut- these

self-help books

will help you feel like you're not alone and offer sage advice to help you through.
OK. I've provided you with ten incredibly inspiring books, any one of which could literally charge your life. Here are my classic picks of 11 best personal development books of all time!!
1. The Greatest Salesman In The World
by OGMandino
Each generation produces its "literature of powers." This type of writing literally has the power to change the reader's life. In this tradition, The Greatest Salesman In The World is destined to influence countless lives. Not only one of the best books on selling
ever written, this is one of the best book on living ever written. This is the gripping tale set in ancient Palestine of a little camel boy, Hafid, two thousand years ago, and his burning desire to improve his lowly position in life. To prove his potential ability, he is dispatched from Beth-elem by his master, the great caravan merchant Pathos, to sell only one robe. He fails and instead, in a moment of pity, gives the robe to warn a new born baby in a cave near the inn.
Hafiz return to the caravan in shame but is accomplished by a bright star shinning above his head. This phenomenon is interpreted by Pathos to be sign from the Gods and he gives Hafiz ten ancient scrolls, which contain the wisdom necessary for the boy to achieve all his ambition.
The timeless story also present the complete writing from the original scrolls. Hafiz applied their secrets of success to become the greatest salesman in the world......and what they accomplished for him they can also achieve for you.....for we are all "salesman"....and the success we attain in life depends greatly on how we "SELL" ourselves to other.
OG. Mandino's first book. A perennial best seller, this may be the best book you read this year.
Buy Now
amazon.com
amazon.in
OG Mandino,
is the most widely read inspirational and self-help author in the world today.
In 1976, at the age of fifty-two, he shocked the publishing industry by resigning his presidency of Success Unlimited Magazine to
devote all his time to writing and lecturing.
Thousand of people from all walk of life have openly credited OG Mandino with turning their lives around for the miracle they have found in his words.
The principles that OG Mandino teaches are tried and tested in his own life. OG was anxious to share them with the world. This led to more books, lectures, and speaking managements. At his death, he was among the most sought-after speakers in the world.
O.G. Mandino sixteen books of inspiration, love and wisdom have sold more than 36 million copies world-wide in eighteen languages, second only to Bible. He was the first recipient of the Napoleon Hill Gold Medal for literary achievement and has been called "The Greatest Writer in The World.
2. Greatest Miracle in The World.

by O.G. Mandino
A heart warming story of hope and inspiration that will affect your thoughts and actions long after the final sentence has touched your
heart. This is the incredible story of Simon Pottor, a rag-picker who
delivers an inspiring "God Memorandum" to make the difference between success or disaster in your life. This book is sure to bring you up when you are feeling down-a great antidote for depression. One of OG Mandino's best stories.
In The Greatest Miracle in the World, a great inspirational writer tells his greatest story–an amazing narrative revealing exciting new secrets for your personal happiness and success.
Buy Now
amazon.com
amazon.in

3. The Greatest Success in The World.

by O.G. Mandino
Through the deeply inspirational story of one extraordinary man who lived in the time of Christ, you too can learn to shed failure, overcome frustration and heart break to achieve a rich, satisfying life of peace and well-being. Learns to play the game of life fearlessly and know the rewards of personal success.


The 10 Commandments of Success are in some ways similar to the principles in Mandino's classic first book, The Greatest Salesman in the World. Nevertheless, these timeless truths never grow old. Read and improve.
Buy

Now
amazon.com
amazon.in
4 . The Magic of Thinking Big.

by David J. Schwartz PhD
Millions of people throughout the world have inspired their lives using The Magic of Thinking Big. Dr. David J. Schwartz long regarded as one of the foremost experts on motivation, will help you sell better, manage better, earn more money, and-most important of all-find greater happiness and peace of mind.The Magic of Thinking Big gives you useful methods, not empty promises. Dr. Schwartz presents a carefully designed program for getting the most out of your job, your marriage and family life, and your community. He proves that you don't need to be an intellectual or have innate talent to attain great success and satisfaction-but you do need to learn and understand the habit of thinking and behaving in ways that will get you there. This book gives you those secrets! "Believe you can succeed and you will".The timeless and practical advice in The Magic of Thinking Big clearly demonstrates how you can:
Smell more.
Manage better.
Lead fearlessly.
Earn more.
Enjoy a happier, more fulfilling life.
Wit h applicable and easy-to-implement insights, you'll discover.
Why believing you can succeed is essential.
How to quit making excuses.
The means to overcoming fears and finding confidence.
How to develop and use creative thinking and dreaming.
Why making and getting the most of your attitudes is critical.
How to think right towards others.
The best ways to make "ACTION" a habit.
How to find victory in defeat.
Goals for growth, and
How to think like a leader.
Believing big, "says Schwartz's. "The size of your success is determined by the size of your belief. Think little goals and expect little achievements. Think big goals and win big success. Remember this, too! Big ideas and big plans are often easier-certainly no more difficult-than small ideas and small plans.
Buy

Now
amazon.com
amazon.in
David Joseph Schwartz,
(March 23, 1927-December 6, 1987) was an American motivational writer and coach, best known for authoring The Magic of Thinking Big in 1959.
He was a professor at Georgia State University and also
began his own work as a self-help coach and life strategist. Later he
founded his own consultancy firm focusing on leadership
development called 'Creative Educational Services Inc.' He became well known through his motivational publication and self-help books, especially for the Magic of Thinking Big, published in 1959.
5. The 7 Habits of Highly Effective People.
by Stephen R. Covey
Powerful lesson in personal change. One of the most inspiring and imp-actual books ever written. The 7 Habits of Highly Effective People has captivated readers for 25 years. It has transformed the lives of Presidents and CEOs, Educators and Parents-in short, millions of people of all ages and occupations have used its step-by-step pathways to adapt to change and to take advantage of the opportunities that change creates.
Buy Now
amazon.com
amazon.in
Stephen R. Covey,
recognized as one of Time Magazine's 25 most influential Americans. Stephen R. Covey was internationally respected leadership authority Family expert teacher, Organizational Consultant and Author. His books have sold more than 25 million copies in 38 language, and the 7 Habits of Highly
Effective People was named the No.1 most influential business books of the twentieth century. After receiving an MBA from Howard and a doctorate Degree from Birmingham Young University. He became the Co-founder and Vice Chairman of Franklin Covey, the leading professional service firm.
6. Awaken The Giant Within.

by Anthony Robbins.
Awaken the Giant Within is a fascinating, intriguing presentation of cutting-edge findings and insights across a brood spectrum of issues, including the growing consciousness that true success is anchored in enduring values and service to others. Are you in charge of your life? Or are you being swept away by things that are seemingly out of your control? In awaken The Giant Within, shows you how to take immediate control of their mental, emotion, physical and financial destiny.
Buy

Now
amazon.com
amazon.in
Anthony Robbins,
is an American Life-coach, self-help Guru, motivational speaker and author. The most famous works of his career are his books, "Unlimited Power" and "Awaken Th Giant Within" and his innovatively designed seminars, "Unleash The Power Within" and 'Mastery University'. He writes and talks on
subjects like health and energy, breaking conventional fears, accumulating more wealth, optimum utilization of the available resources, maintaining and enhancing relationships and communication.
7. Rich Dad Poor Dad.

by Robert T. Kiyosaki
Robert Kiyosaki has challenged and changed the way tens of millions of people around the world think about money. With perspectives that often contradict conventional wisdom. Rich Dad Poor Dad will explode the myth that you need to earn a high income to become rich. Challenge the belief that your house is an asset. Shows parents why they can't rely on the school system to teach their kids about money. Define once and for all an asset and a liability. Teach you what to teach your kids about money for their future financial success the main reason people struggle financially is because they have spent years in school but learned nothing about money-but never learn to have money work for them.
Buy

Now
amazon.com
amazon.in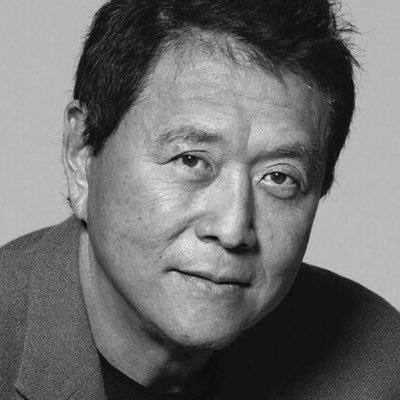 Robert Kiyosaki,
is a Japanese American born in Hillo, Hawaii truly a multi-talented personality. He is an entrepreneur, investor, motivational speaker, author and also a financial knowledge activist.
Robert Kiyosaki, author of Rich Dad Poor Dad - the international runaway bestseller that has held a top spot on the New York Times bestsellers list for over six years - is an
investor, entrepreneur and educator whose perspectives on money and investing fly in the face of conventional wisdom. He has,
virtually single-handedly, challenged and changed the way tens of millions, around the world, think about money. In communicating his point of view on why 'old' advice - get a good job, save money, get out of debt, invest for the long term, and diversify - is 'bad' (both obsolete and flawed) advice, Robert has earned a reputation for straight talk, irreverence and courage. Rich Dad Poor Dad ranks as the longest-running bestseller on all four of the lists that report to Publisher's Weekly - The New York Times, Business Week, The Wall Street Journal and USA Today - and was named "USA Today's #1 Money Book" two years in a row.
8. The Road Less Traveled: A New Psychology of love. Traditional Values, and Spiritual Growth.

By M. Scott Peck. M.D.
Written in a voice that is timeless in its message of understanding, The Road Less Traveled continues to help us explore the very nature of loving relationships and leads us toward a new serenity and fullness of life. It helps us learn how to distinguish dependency from love; how to become a more sensitive parent; and ultimately how to become one's own true self.

Recognizing that, as in the famous opening line of his book, "Life is difficult" and that the journey to spiritual growth is a long one, Dr. Peck never bullies his readers, but rather guides them gently through the hard and often painful process of change toward a higher level of self-understanding.
Buy Now
amazon.com
amazon.in
Dr. M. Scott Peck,
was a nationally recognized authority on the relationship between religion and science, and the science of psychology in particular. In 1992 Dr. Peck was selected by the American Psychiatric Association as a distinguished psychiatrist lecturer "for his outstanding achievement in the field of psychiatry
as an educator, researcher and clinician." From 1963 until 1972, he served in the United States Army, resigning from the position of Assistant Chief Psychiatry and Neurology Consultant to the Surgeon General of the Army with the rank of Lieutenant Colonel and the Meritorious Service Medal with oak leaf cluster. From 1972 to 1983, Dr. Peck was engaged in the private practice of psychiatry in Litchfamazon.inield County, Connecticut.
9. How To Win Friends and Influence People.
The only book you need to lead you to success. In his exuberant conversational style, interventionally best selling author. Dale Carnegie often practical advice and techniques for how to get of a mental rut and make your life more rewarding. How to Win Friends and Influence People has the potential to turn around your relationships and improve your dealing with all of the people in your life. This book will do for you to: Get you out of a mental rut, give you new thoughts, new visions, new ambitions. Enable you to make friends quickly and easily. Increase your popularity. Help you to win people to your way of thinking. Increase your influence, your prestige, your ability to get things done. Increase your earning power. Help you to handle complaints, avoid arguments, keep your human contacts smooth and pleasant.
Buy Now
amazon.com
amazon.in
Dale Breckenridge Carnegie,
a pioneer in the fields of adult educations and self-improvement, Carnegie's books and courses inspired an entire genre of non-fiction writing. Dale Breckenridge Carnegie, born on 24th November 1888-1st November 1955 was a highly acclaimed
American writer, professor and also the founder of causes such as salesmanship, public speaking, self-improvement and interactive skills. He was born in an impoverished family in Maryville, Missouri. Carnegie harbored a strong love and passion for public speaking from a very early age.
10. The Untethered Soul.

by Michael A. Singer
What would it be like to free yourself from limitations and soar beyond your boundaries? What can you do each day to discover inner peace and serenity? The Untethered Soul offers simple yet profound answers to these questions. Whether this is your first exploration of inner peace, or you've devoted your life to the inward journey, this book will transform your relationship with yourself and the world around you. You'll discover what you can do to put an end to the habitual thoughts and emotions that limit your consciousness.
By tapping into traditions of meditation and mindfulness, author and spiritual teacher Michael A. Singer shows how the development of consciousness can enables us all to dwell in the present moment and let go of painful thoughts and memories that keep us from achieving happiness and self-realization.
'The Untethered Soul' begins by walking you through your relationship with your thoughts and emotion, helping you uncover the source and fluctuations of your inner energy. It then develops into what you can do to free your self from the habitual thoughts, emotion, and energy patterns that limit your consciousness. Finally, with perfect clarity, this book open the door to a life in the freedom of your innermost being.
Buy Now
amazon.com
amazon.in
Michael A. Singer,
is the author of #1 New York Times bestseller, The Untethered Soul and New York Times bestseller, The Surrender Experiment, which have been published worldwide. He had a deep inner awakening in 1971 while working on his doctorate in economics and went into seclusion to focus on
yoga and meditation. In 1975, he founded Temple of Universe, a now long-established yoga and meditation center where people of any religion or set of beliefs can come together to experience inner peace. Along with his more than four decades of spiritual teaching, Michael has made major contributions in the areas of business, education, healthcare, and environmental protection.
11. The Success Principle

.

by Jack-Canfield
This book is a road-map for any one- from marketing professionals to small business owners, and from teachers to students and
parents-striving to achieve their professional and personal dreams or goals.
Jack Can-field's Practical and inspiring guide has helped hundreds of thousands of people achieve success.
The Success Principles will teach you how to increase your confidence, tackle daily challenges, live with passion and purpose and realize all your ambitions. Not merely a collection of good ideas, this book spells out the 67 timeless principles and strategies that can be adopted for your own life, whether you want to be the best salesperson in your company, become a leading architect, score top grades in school, lose weight, buy your dream home, make millions, or just get back in the job market.
Buy Now
amazon.com
amazon.in
Jack Can-field

, is a bestselling author, award-winning speaker trainer, entrepreneur and an internationally recognized leader in personal development and peak performance strategies. In 2014, Success Magazine named him "One of the Most Influential Leaders in Personal Growth and Achievement.
He is a Harvard graduate with Master's Degree in Psychological educations, the founder and chairman of The Can-field Training Group in Santa Barbara, California.
Now It's Your Turn!!
What book ought to be on this list? What book has motivated you? What motivational book do you recommended to your friend?
Leave a Comment!